TREE SERVICES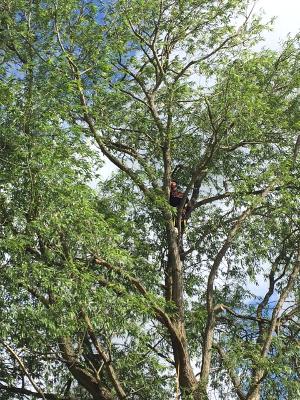 If you're looking to have work done to one or a number of trees then we, at Clayton's Fencing, can help. Our team of highly qualified experts have over 25 years of experience in examining and conducting a range of tree services. Before work is carried out, we'll conduct a site inspection and plan out how any work will be conducted. Following the latest industry standards, all legal requirements and the latest health and safety procedures, we ensure all work is carried out quickly, efficiently and safely.
Our team of tree surgeons offer a full range of services for residential and commercial customers throughout Buckinghamshire that includes:
Hedge Removal – If your property has an unsightly hedge that you'd like to have removed, our team will take care of it for you. Our equipment means that we can remove any size hedge.
Hedge Trimming – We will prune and trim your hedges to keep them looking great throughout the year. Our team will also clip and shape your hedges to ensure they get the light, air and water they need to stay healthy.
Stump Grinding and Removal – A tree stump can be an eyesore and a nuisance but our team will remove the stump (along with its major supporting roots) to below ground level so that the area can be landscaped over.
Shrub Clearance – We can reclaim your overgrown land for you by removing unwanted shrubs and out of control plants.
Tree Topping – Our professional team carries out the safe removal of the tops, large branches or trunks of your trees in a way that doesn't endanger the trees.
OUR TREE SERVICES
We provide multiple tree services to domestic and commercial customers at affordable rates. Overgrown, damaged or hazardous trees can be treated with our tree surgery or crown reduction services. However, when these services aren't the best course of action or they don't eliminate your issue, we can also conduct tree and stump removals. Before any sort of tree treatment, we'll conduct a health examination in order to provide you with the most appropriate service. By cutting, pruning and removing trees we can lessen the risk of storm damage, the development of funguses and the spread of root diseases. For businesses and homeowners, we also provide a number of fencing and hedge maintenance services.
SAFETY & RESPONSIBILITY
Our specialist fellers will always ensure the surrounding areas are kept safe when a tree needs to be cut down. We also ensure that our commitment to the protection of wildlife habitats and conservation is kept at all times. In addition to this, all waste products, as a result of our services, will be cleared and responsibly disposed of at the end of a project. If you have any questions about our services, our procedure or the guidelines we follow then feel free to contact a member of the team either on 07785 955 633 or through our online enquiry form.
Get in Touch
07785 955 633
Fencing and Tree Services
Suppliers & erectors of all types of made to measure fences with gates to match
Our Address
20 Fairacres
Prestwood
Great Missenden
Buckinghamshire
HP16 0LD
Contact Details
T: 01494 890737